Pandemic Lessons
Documenting Shifts in Food Delivery
Welcome to our Fourth issue of Focus series at the duologue. The reading time to finish this one is around 8 mins.  

The Duologue is a concerted effort by Vivek and Bheem to make sense with a unique lens. Now, on to the post!
---
Hey Bheem,
This time around let us shift our focus onto On-Demand delivery fleet businesses. A lot of their underlying beliefs and business incentives came to the forefront in these pandemic times. 

One of the most lauded efforts of delivery apps was providing essential services to the customers in need during the lockdown. All of sudden ordering food was turned from a cultural norm to a philanthropic act. 

As a full disclosure, I have availed these services when I wanted outside food rather than cook at home, realised how good the service was most times. But, then the city I reside in decided to stop delivery services of food, not grocery, just food for a brief period of 3 weeks. 
So, I went back to cooking and experimenting with food. Few restaurants opened up within a week of the stoppage because of change in rules of State Govt. allowing them to open without delivery. I was shocked to know about this only when i chanced upon these restaurants while driving past them. Since spotting, I had called all my favourite restaurants and found out whether they are open or not, you see I felt philanthropic myself. They were only a few open in my totally limited experience. I partook in these contributions to have my tummy full on more than one occasion. 
The process i undertook was to call them up, order food and mention the time I would reach the place. Once at their place, called them up and got the food handed to me. 
Now due to stoppage of Food delivery, most of the delivery guys were out of orders. So both companies tried to turn their delivery workforce into urban butlers and grocery delivery personnel by training them through their app. So, Genie (urban butler service), grocery and meat products were launched in quick succession.  [1]
With a pandemic and lockdown being enforced, these companies acted fast to adopt to the needs of safety and hygiene and lined riders for the other deliveries. All of a sudden they became the only lifeline we had to access things we require from the safe regions of our home. 
While branching out, they also made a point very clear to every restaurant partner, you are in this on your own. Don't expect to rely on us when you need us the most( delivery stoppage). Wasn't there an app that shows you the menu of the store from which you could order online, pay and then instead of getting it delivered, go collect it yourself. 

In the brief 3 weeks when delivery was stopped, these apps could have done the rest and asked the customer to go collect the food once prepared. Why didn't they do this for those restaurants that were still functioning during those few weeks on their own?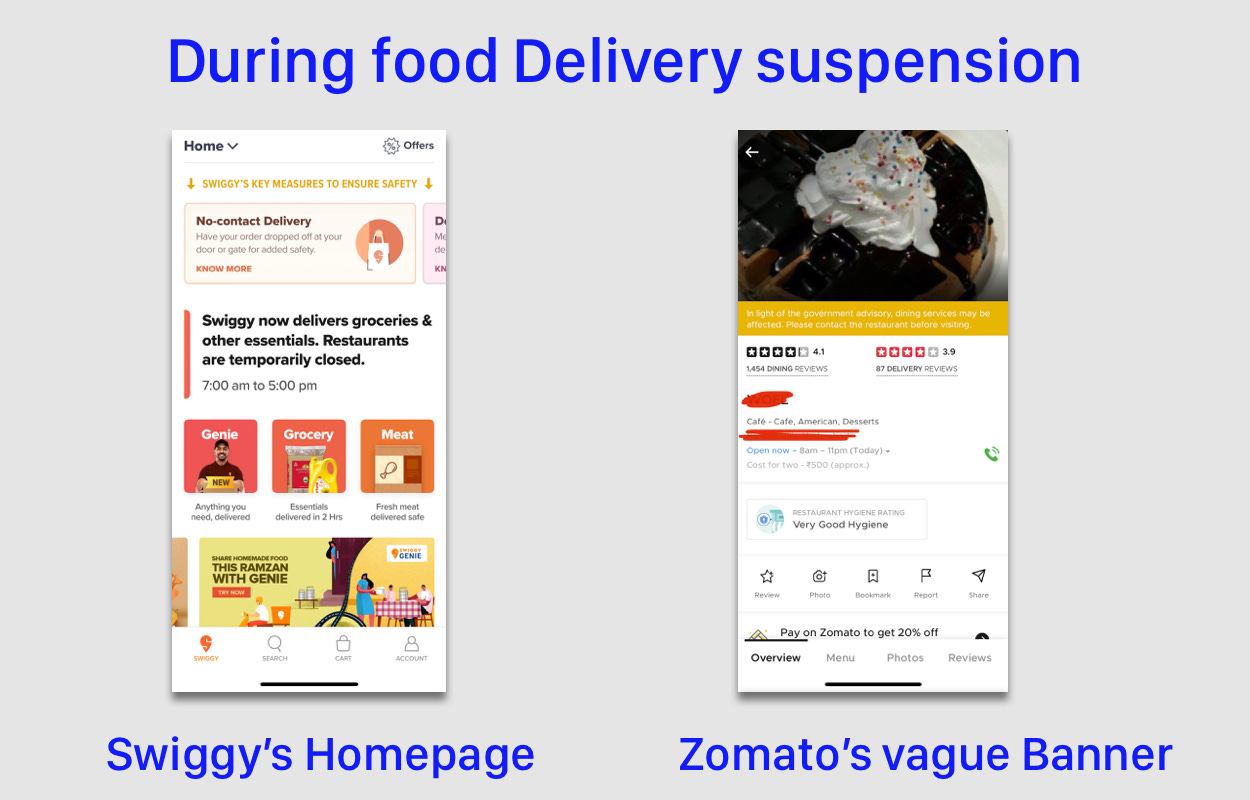 Survival
Food Delivery businesses did what they got to do to survive. In essence, during this pandemic these businesses accepted their true purpose, being on demand labour service delivering customer needs. So, you, my dear fellow customer are vital for these businesses. Not the restaurants from where you order nor the people who deliver it to you. How does that make you feel? Special!! 
When it comes to restaurants, aggregators are enemies you want to keep close to yourself at all times. They are savvy businesses that sell you the dream as long as it goes by their way. Now, since you are closed and obviously struggling it has accelerated the commodification of restaurants. More on that a little later. 
In the business of Narratives: Growth
Like businesses even media has a narrative. Currently, they are lauding the efforts of these delivery services for adapting to times and changing their business model so quickly. They have joined general public raving about starting alcohol delivery.[2] Media is playing the part to build a narrative growth in these newer verticals for these businesses. I digress, but the message remains the same, there is always more vertical for each of these companies to grow into without fixing its core offering. Let's take some help from others to explain what i mean.
There was a recent piece that made a splash across the tech and finance world, it was called Pizza Arbitrage and written by fellow newsletter writers at Margins. The piece basically hit the nail on its head when it comes to food delivery services[3]: 
You have insanely large pools of capital creating an incredibly inefficient money-losing business model. It's used to subsidize an untenable customer expectation. You leverage a broken workforce to minimize your genuine labor expenses. The companies unload their capital cannons on customer acquisition, while this week's Uber-Grubhub news reminds us, the only viable endgame is a promise of monopoly concentration and increased prices. But is that even viable?


Third-party delivery platforms, as they've been built, just seem like the wrong model, but instead of testing, failing, and evolving, they've been subsidized into market dominance. Maybe the right model is a wholly-owned supply chain like Domino's. Maybe it's some ghost kitchen / delivery platform hybrid. Maybe it's just small networks of restaurants with out-of-the-box software. Whatever it is, we've been delayed in finding out thanks to this bizarrely bankrolled competition that sometimes feels like financial engineering worthy of my own pizza trading efforts. 
The above few lines pretty much convey what is essentially the truth about food delivery businesses. Though even I have a friend who runs a pizza shop and doesn't deliver with either Swiggy or Zomato, I couldn't come up with such an insight, so hat-off to Ranjan for nailing this down.  
There is a future after this pandemic for all of us but I am not sure whether in that future there is a place for this subsidy model to exist. And I think, even the founders of these businesses also know that and started working on what next and what else ! 
Food Delivery businesses tried competing with restaurants with their own cloud kitchens but realised that it is too much work in the post-pandemic world as investors might not find it interesting enough to invest in them. They reduced the business by firing most of the staff that was working on cloud kitchens. 
To extend the scheme of fund raising from Venture Capital in addition to all recent launches, they have locked on to a next target, supplying produce. Why produce though?
Produce markets gives these businesses a possibility of scale[*]. First, it is a huge market. Now more than ever it is opportune time to build such a venture, demand shocks causing all sorts of disruptions. This ensures there is an another round of fundraising for both Swiggy and Zomato to get earned press and talk about how they are helping the restaurants. Throw in farmers as well, sounds better, doesn't it?[4]
Commodification of your Partners
It is a business strategy to commoditise the adjacencies to your business model. It is mostly strategised in the spirit of holding your business model intact against growing competition. The food delivery businesses are out to commoditise their business model because it is maxed out and is about to fall off the cliff in the post-pandemic world. Due to COVID-19, there is no growth in this sector as the restaurant industry is facing a huge uphill task to recover.


Phoenix rising from the Ashes 
Let's take a hypothetical situation where you are planning to start a food business. The day you decide to start a new restaurant you can come to either of these delivery businesses and just pay them a package for which they set up a kitchen for you(cloud kitchen), manage your fresh produce needs and also make your delivery functional from day one. Added, you get to buy screen estate on their applications to mark your launch and get customers.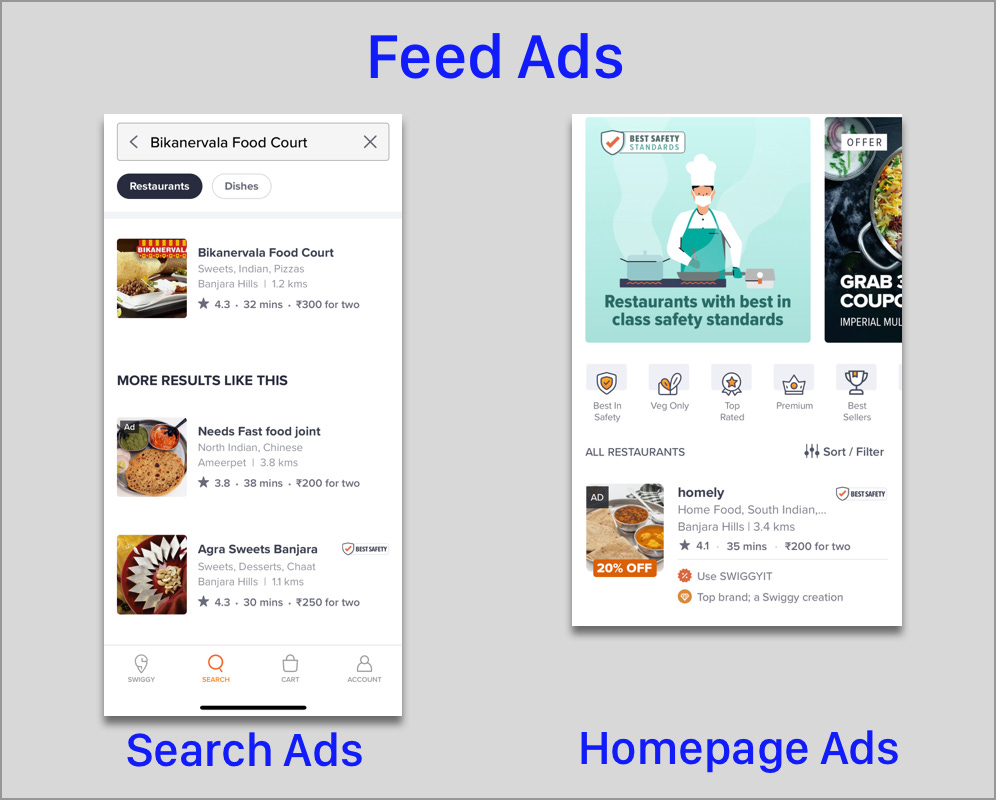 If you are also interested to know what to have on your menu, they might sell you a higher package with all those insights as well. And if you want staff, they can provide them as well. They have a list of all their recently let off employees.[5] All in all you end up as a person bringing in funds to start a venture where you don't own the relationship with your customers, decide the menu or train and employ the staff. It's all taken care off.

Even after reading this, if any company/individual wants to set up a restaurant by subscribing to such packages. The only logical conclusion must be that they are backed by some PE fund which is left with no investment opportunity and also missed the bus on Jio investments unfortunately. I understand, no judging here.

For every one else, this sort of convenience come at a cost. This time around, it's your value to the end customer who may enjoy your food. Think about that. It always starts as a helping hand named with a positive bent, like Jumpstart. [6]

This is not new, this has happened in the ride-hailing space as well and prior to that in the publishing space with Facebook and Newspapers [7]. If you are a value creator, be it food, journalism or content, it is preferable you own the relation to your customers or else you will risk everything at the whims of your frenemies, and they always have their interest ahead of yours.
Regards,
Vivek
[*]: I myself own and run a produce business that is not similar to the produce business these companies started.
---
References:

[1]: Swiggy's Big Wish from Genie-reinvention
[2]: Swiggy, Zomato start online alcohol delivery in Jharkhand
[3]: Doordash and Pizza Arbitrage
[4]: Zomato Hypersclaes Hyperpure
[5]: Swiggy to lay off 1100 staff with financial and healthcare benefits
[6]: Swiggy Launches Jumpstart package to help Partner Restaurants resume operations
[7]: The Buzzfeed Lesson
---
The Duologue is an effort by Vivek and Bheem to have a dialogue about varying topics. 
If you liked what you read, you can subscribe to our newsletter. 
Share it around if you find any of this piqued your interest or might be interesting for your peers.