Zomato : And its perils
How a business outgrows and finds no customers in the end!
Hey Bheem ,
Going by your post, RBI is out to move out of its regulatory role to a participatory role in economy. We also have one private aggregator in a bit of pickle: Zomato, one of the pioneering startups out of India. You definitely would have heard about it since your move to Mumbai, unlike your college education days where you were holed up in some village. It's an app which is struggling all of a sudden with a PR blow-out. Instead of just giving a hot take on the blow out, I thought I will take you on a journey as to why exactly this blow-out was long time coming.
---
Right off the bat, I want to say that I have immense respect for what Zomato built. Heck, I even applied for a job to work for them.
Now, all of what I am going to write are decisions or reasons according to my understanding of why Zomato is in this PR problem.
Incarnations
To put it simply, Zomato is a typical aggregator. It controls the demand (customers) and their experience at restaurants. So, suppliers rely on it to serve the demand well.
You will see how it played out across all its avatars.
1st Avatar : Single Pain Point Service
Zomato started simple. 3 guys decided to upload menus of restaurants for people to see before they go to dine or order food. Back in 2008, only Dominoes and a few local restaurants used to deliver through phone orders. You could only get the menu after the first delivery was made. Deepinder and his co-founders decided why not have the menus online to have all of this done in a better manner.
Simple, right!
2nd Avatar : Finding Its Product Market Fit ( PMF)
Adding to the menus, Zomato started a review system for each restaurants. Customers liked this service and started using service.
Zomato led the on-boarding of restaurants by going door - door. At a juncture the users found value and started to flock Zomato. And as review influencer culture increased, restaurants also saw the value and started listing themselves voluntarily.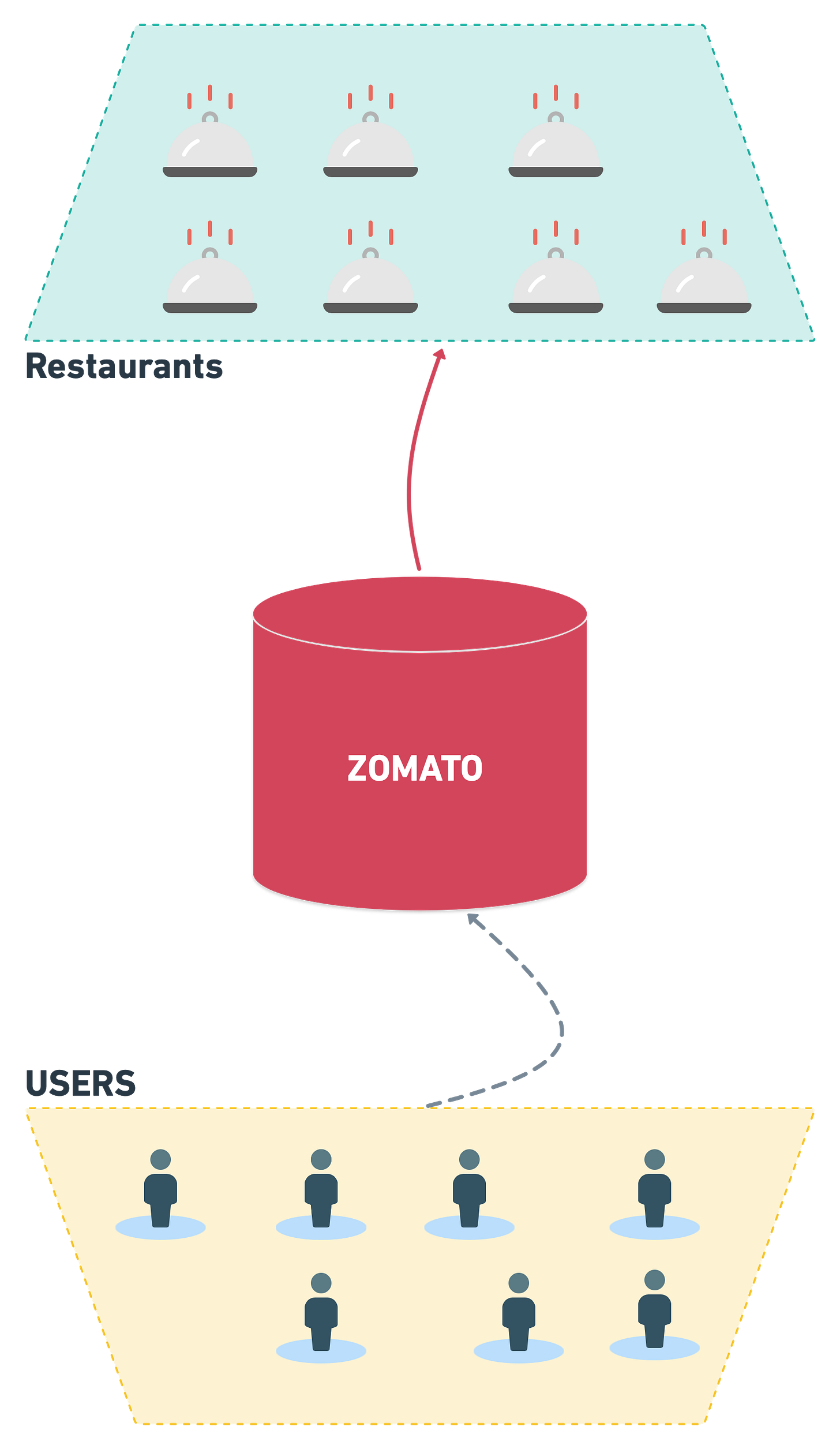 As a product, this is where Zomato found Product Market Fit (PMF). In other words, a problem it is solving for both its suppliers(restaurants) and consumers.
3rd Avatar: Global Expansion
In 2015, buoyed by its rapid growth in user base and clear cut value proposition established, Zomato went on to raise some funding from the big investors. Though it found PMF, burn ( money spent to run the business) was still high. This directly led to some acquisitions to expand reach ( global expansion ) and branch into adjacent business verticals.
Acquisitions by any startup that recently got funding means, it wants to accelerate growth in an artificial way or expand into adjacent business verticals to add some heft to its offering. So, Zomato went on a world expansion spree and ended up buying out a US table booking service called Urban Spoon in 2015.
4th Avatar: Dinning Excelsior with Global footprint
Establishing itself clearly as a restaurant aggregator and dining experience review service. Restaurants, new and old, flocked to get them listed and get favourable ratings to have newer prospective diners try their restaurants.
Zomato has a meter to guage the contribution of every reviwer. In search of favourable reviews , few restaurants or reviewers.This led to a shadow economy of experienced reviewers on the Zomato platform reviewing for money. Zomato then had to invest heavily in its moderation. Currently it shows accurate and fake review counts together to say how restaurants fared among actual reviewers.
When an aggregator faces such challenge what it indirectly means is that the supply side of the business, i.e restaurants , are heavily dependant on the aggregator to drive footfall into their restaurants. This is a good problem to have for any aggregator business.
The revenue generation was basically through table bookings ( affiliate charges ) and promoted listing of restaurant in the home page of the Zomato app. A good business but not the rocket ship required for VC funded ones.
The international expansion didn't lead to significant additional revenue, rather it came with a much larger burn.
5th Avatar: Quality Checker
In 2014-2015, there was a gold rush in the food ordering space. There were multiple startups ploying for the same limited customers in urban markets. Everything was a race, lot of startups trying to differentiate each other slightly or purely on discounts.
Customers used to look up on Zomato the reviews of dishes from a particular restaurant, and order those dishes using the discounts offered by these food delivery businesses. It used to be a bargain compared to the actual price for the same dishes.
So, online ordering became a fad. We had a boom of food delivery apps. This clearly led to a panic in the top ranks of Zomato, the board and investors. The largest food business startup was not part of this boom at all. Media went berserk talking about all the delivery businesses and poking fun of Zomato for not seeing this coming.
So a botched up job was done to quickly launch a delivery service.
---
Sidenote
Delivery service was an obstacle to the vision of Deepinder, I guess, he was slowly spreading his tentacles and diversifying into many other businesses through acquisitions of Nextable and Tongue Stun. Nextable works on managing dining experience for reataurants and tongue stun is to manage cafetria food for workpkaces.
Using the data of the dishes being ordered by managing the dinning service system for restaurants and then analysing the comments from reviewers, they wanted to become a full service technology stack for restaurants to depend on to gain insights of managing the menu, ordering produce and gaining more customers. Zomato wanted to be the critical platform for any restaurant to build on and expand further.
Zomato would have reached its target had its board not forced the top managements hand to enter delivery.
---
6th Avatar: Octopus in the making
Zomato entered delivery business, burnt a ton of more money and acquired the same customers that were going to other delivery apps by itself offering discounts.
All of a sudden, food tech bubble burst and they were only two companies left standing by the end of 2016 :
Zomato and its heavily funded nemesis, Swiggy which had a different offering right from the beginning. Swiggy pioneered in route optimisation, rider optimisation, quicker deliveries and increasing the average dishes sold by the restaurants.
Can't you see how different both these companies approached the food delivery business.
But both of them found a problem, there were not enough restaurants. So they started their own or offered to start cloud kitchens for other restaurants. Many jumped in at the opportunity. This led to many restaurants working only on delivery business. This aspect of the business and its shortcomings are covered in this article from Mint.
---
Buoyant by the Hype
All along the way, Zomato has been cognisant of its role and importance. They respected the industry they were functioning in and only wanted their partners to prosper further with their help. Incentives aligned for all. Users got to know about new and undiscovered restaurants, restaurants got to reach out to more customers and Zomato played the role of a user experience manager to make this happen. If only had it stopped there.
Beginning of the screw up
By launching of delivery business, Zomato was always at odds with its core value proposition to restaurants.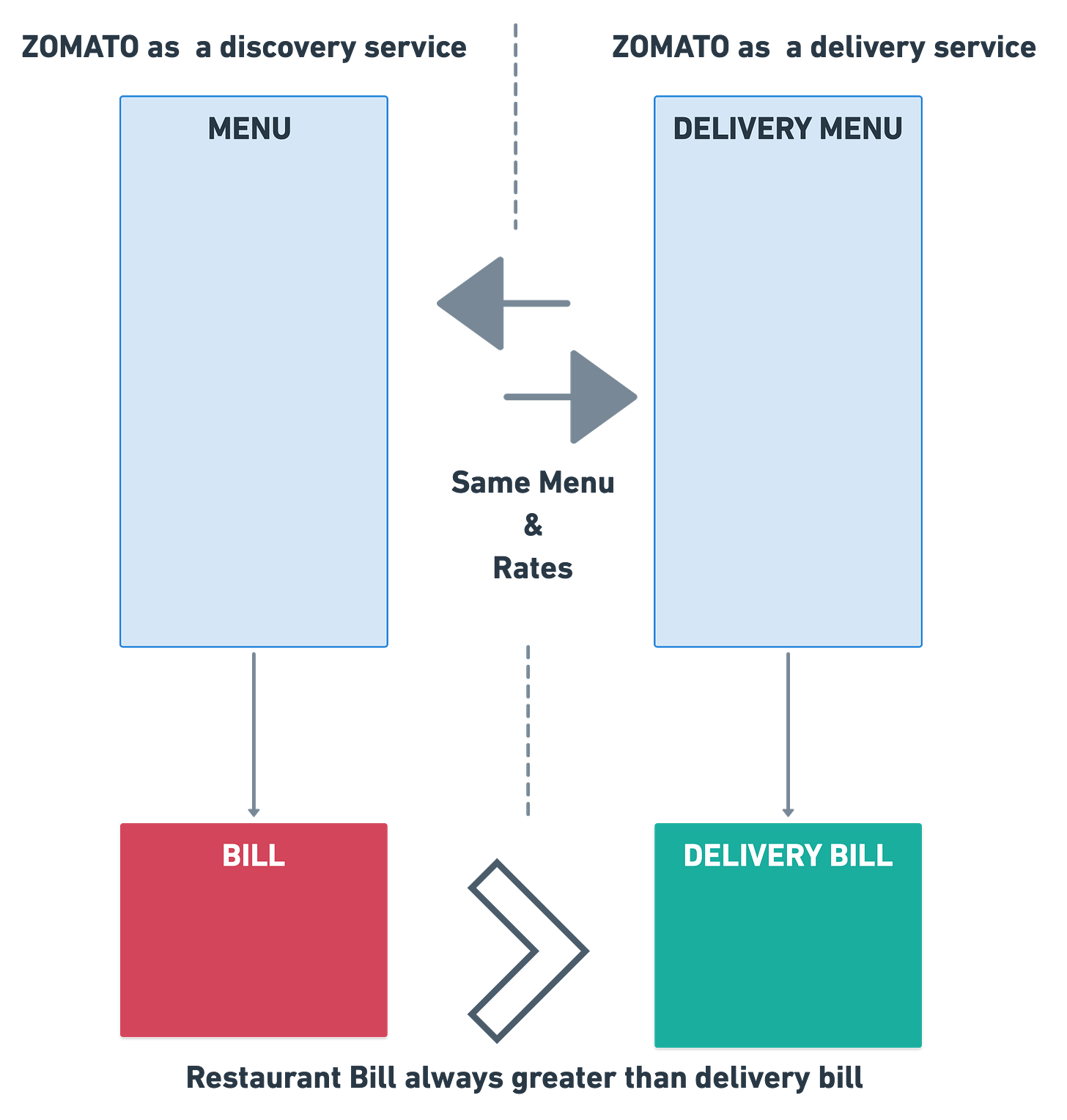 With the delivery order always being cheaper than the dine-in experience, many preferred ordering as it was not only cheaper but convenient as well. Incentives made them do this, not because they were discount hunters. Anyways 90% of the restaurants don't offer grand and unique dining experiences.
With the sudden downfall in walk-in customers, Zomato came out with a new offering called Zomato Gold to right this wrong. It offered the diners a 1+1 on food and 2+2 on drinks if you unlock the code at the restaurant.
It was touted as a loyalty service, in effect many people only showed up to restaurants because of the discounts. This eventually led to the current stand off between NRAI and Zomato.
Zomato's Deepinder blamed discount hunters :
Zomato Gold has been a major hit, but we understand that bargain hunters have also joined Zomato Gold and they are hurting some segments of the restaurant industry very badly. I am sad that young entrepreneurs (much like me) in the restaurant industry are feeling the pressure to such an extent that they had to launch such a campaign. We set out to create a company which can create a massive impact on consumers, as well as business owners. Somewhere, we have made mistakes and things haven't gone as planned. This is a wake-up call that we need to do 100x more for our restaurant partners than we have done before,"
But is this what led to this stand off, I don't think so.
Recent Avatar: Time to rethink.
Let me restate, Deepinder has been commendable in his leadership role till now but this way of throwing the Zomato Gold members under the bus is cowardice.
Incentives matter in any business, until Zomato started the delivery and then followed it up by Gold, the incentives of all the participants in this business model aligned with each other.
From the start of the delivery business, the restaurants had to pay anywhere between 15- 25% commission on every order. Plus the discounts on the platform devalued their menu. Disincentivising customers to ever pay full price.
Even today, delivery only constitutes 8% of order value for a restaurant. But the unit economics are different for delivery business. Here is an excellent infograph from the Mint to explain it.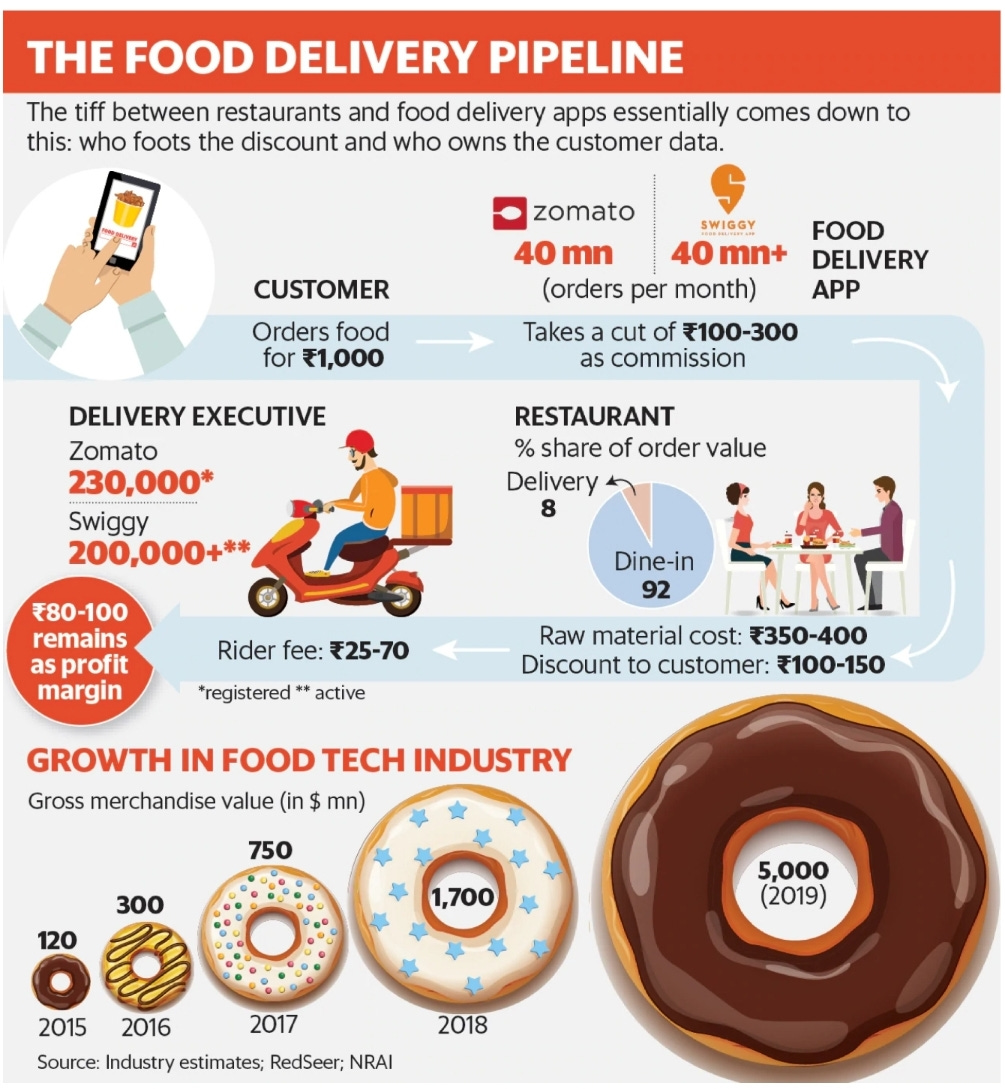 This shows how wafer thin the margins are and why Zomato pushes its restaurant partners to shell money from their pockets.
Now, moving on to Gold.
Incentives Matter , I repeat Incentives matter.
Zomato Gold started as a loyalty program to drive in exclusive footfall to any partnered restaurant. Yet it ended discounting the dine in experience, all together, as it ended up opening up to everyone to subscribe. Zomato was getting revenue from subscribers of the Gold, whereas restaurants were footing the bill on the discounts.
Zomato Gold is already a hit. The company expects Gold, which has amassed more than 800,000 customers, to bring in $20 million to $25 million in revenue by end of this year.
Now, Zomato goes double down thinking that their offering is a hit with Infinity gold. It offers unlimited food at nominal price at a particular time. This was the final straw, partner restaurants got tired of the milking by Zomato. They said, enough is enough.
A restaurant owner to whose restaurant I am a regular put it this way, though orders are more in delivery business it is not worth the pain. The sales representatives keep haggling you for more percentage cut every quarter ( Sales targets are pain in the ass for sales executive). Hence, decided to keep it simple. Cut the delivery option all together. He has his regular customers coming in, dine and enjoy my food without any Gold offering. Through them others might try out the restaurant. Even if he doesn't get any new customers, at least he knows who his regulars are and this incentives him to keep a rapport with them.
He is single restaurant owner, not similar to many chain or franchise restaurants nor is he is getting in the restaurant business to make enormous amounts of money and reach peak scale. It will take another 1000 words to explain restaurant business, so i will leave it up to this post to explain the hardships of business and how mis-alligned was Zomato gold.
All in all, right now Zomato doesn't exactly know where it sits. All its flagship offerings are in conflict with each other. All of this was led by its own misgivings, lack of foresight and growth pressure due to VC funding. The only thing clear is all of these are hurting restaurants by first devaluing their menu, second commoditising experience ( people look for Zomato gold, if it is there , they are not particular about the dining ) and lastly, taking a significant cut from their earnings on both fronts.
What did you expect, Zomato ??
Deepinder and Team needs to get back to the drawing board and figure out proper incentives for each of the participants of the business model, in other words find their product market fit ( PMF) once again.
If not, the next ones to bail will be the consumers/diners/ users who feel short changed for being called discount hunters. If they don't throng to Zomato to offer free reviews, order food and use Zomato Gold, all of which generates data that is core for whatever the fuss Zomato is trying to build, it will be in for a rude shock when it is left with no customers to offer products to in the first place.
Regards,
Vivek
---
Duologue is an effort by Vivek and Bheem to have a dialogue about varying topics.
If you liked what you read, you can subscribe to our newsletter.
Share it around if you find any of this piqued your interest or might be interesting for your peers.